The know-how that was cultivated for 100 years
We manufacture and delivery high precision inner engine parts with confidence. Our characteristic integrated manufacture from forging, heart treatment (annealing, thermal refining and so on), machining, carburizing, grinding, and assembling has a motto "Don't send defective work to the next process" in order to make sure of the quality at each process.
Quality assurance section and production technology staffs make sure of the quality of the products everyday with the know-how that was cultivated for 100 years.
Basic Policy
Continuous improvement of quality, cost, delivery and safety. Enhancement of the competitive edge. Employee satisfaction through customer satisfaction. Growth together with local community.
Quality Policy
We set our "Quality Policy" based on our basic policy as follows:
Our mission is to meet our customers' needs and expectations.
We will continuously make improvements by using our quality management system effectively.
We will educate all of our employees and will make sure entire organization understand the policy.
Environmental Policy
On the basis of our basic policy, we set for the following environmental policy:
To be a company which contributes our society by giving sufficient consideration to environmentally friendly manufacturing.
We abide by all laws and regulations in order to be and environmentally friendly company with originality and integrity.
Through our business activities, we will continuously improve reduction of waste and energy consumption.
We all give sufficient consideration to safety and environmental protection to be a responsible member of our society.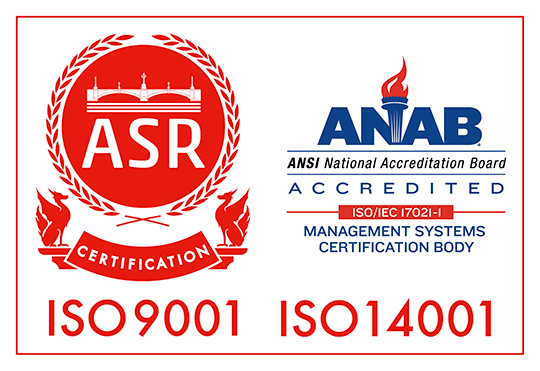 ISO certification
We obtained certificates of ISO9001 (quality management system) and ISO14001 (Environment management system).
We would like to keep the ISO standard certificates and would like to make efforts to be a reliable company for our customers.