History of Fujita Iron Works Co., Ltd.
Transition of our products and technologies
Message from our president

Fujita Iron Works celebrated our 100 years anniversary.
1914
Private company established for production and marketing of tea processing equipment and machine tools.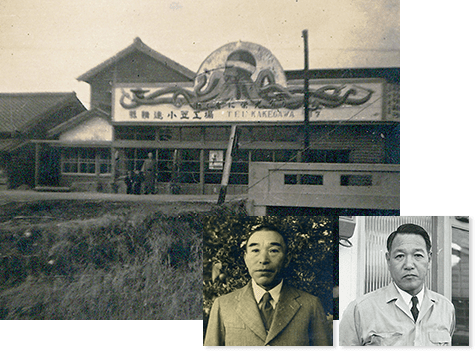 1941
Began production of aircraft parts as a subcontractor of Nippon Gakki Co., Ltd.
1945
Began production of locomotive parts for the Nagoya Railway Bureau, Ministry of Transport.
1949
Began manufacture of motorcycle parts for major manufacturers, leading to the development of an integrated production of line ranging from forging to machining, heat treatment, grinding, honing, and assembling crankshafts, connecting rods and shafts.
1951
Incorporated as Fujita Crankshaft Co., Ltd. Expanded operation to meet growing demand for motorcycle parts.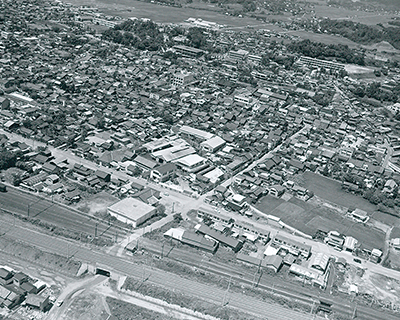 1960
Established Daiwa Forging Co., Ltd. as a subsidiary.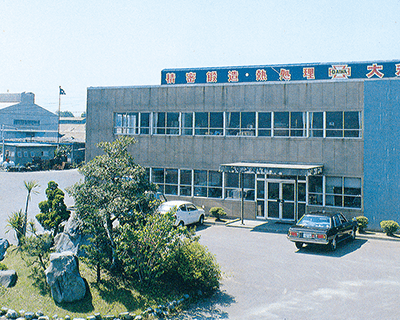 1964
Separated the Metal Mold Division to establish Fuji Mold Co., Ltd.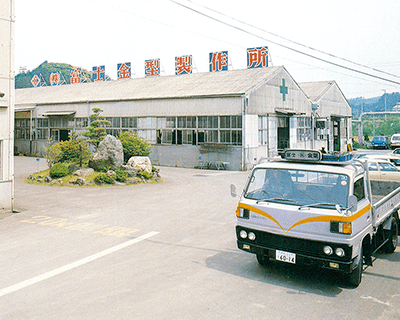 1970
Separated certain facilities as the South factory to expand production capacity.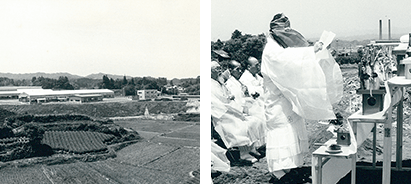 1971
Opened the Fujita Senior Vocational Training Institute (2 years forging engineering course).
1977
Awarded a Letter of Commendation from the Minister of Labor for promotion of the Physically Handicapped Employment Program.
1978
Established Seiwa Heat Treatment Co., Ltd. as a subsidiary.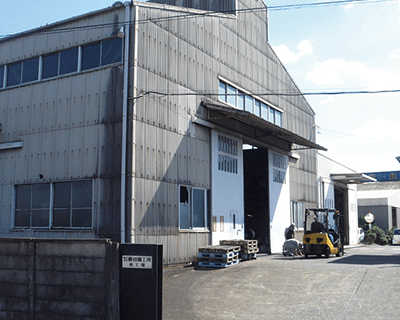 1981
Participated in the 1st convention of Reporting Small Group Activities by Small and Mid-sized Enterprises in Shizuoka prefecture.
Won the highest award, the Governor's Award.
1986
Developed robots for crankshaft and connecting rod processing machines and automatic loaders.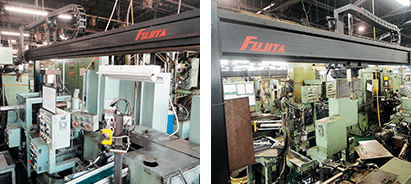 1991
Established Fujita Corporation as a subsidiary.
Installed 10 triaxial automatic horning machine which took us 7-8 years.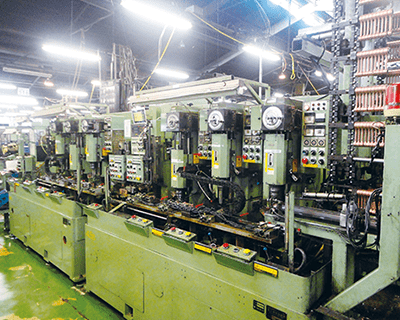 1993
Awarded a Letter of Commendation from Commissioner of Social Insurance Agency for its contributions to promotion and development of social insurance system.
1995
Made a sub-assembly machine (Kumiko) for crankshafts of small engines.
1997
Began manufacture of assembly connection rod.
1998
Began technical guidance business for India.
Added a processing factory to the South Factory.
2000
Awarded Letter of Commendation for excellence in compliance with tax declaration requirements.
2002
Established PT. FUJITA INDONESIA in Indonesia
Absorbed Seiwa Heat Treatment Co., Ltd into Fujita Crankshaft Co., Ltd.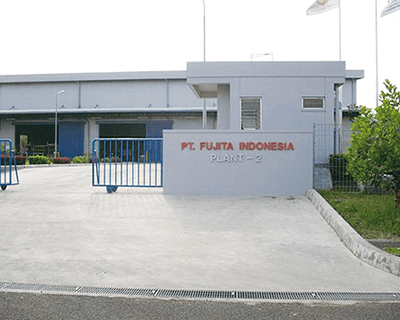 2004
Fujita Crankshaft Co., Ltd acquired ISO14001 approval.
2005
Fujita Crankshaft Co., Ltd acquired ISO9001 approval.
Added the 5th factory.
Began training of Indonesian trainees.
Achieved 100th QC-circle presentations.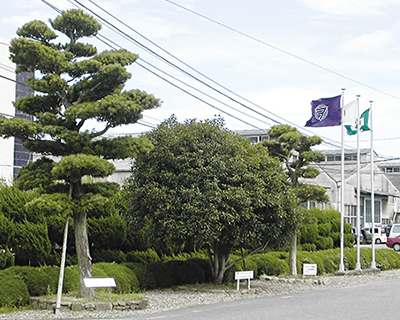 2010
Established FUJITA VIETNAM CO., LTD in Vietnam.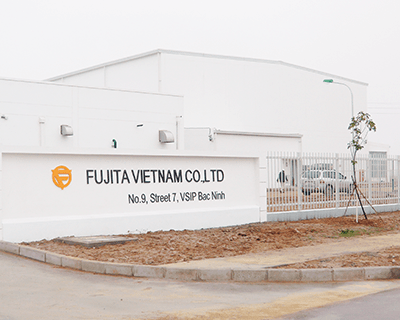 2013
Built the 1st office in the South factory.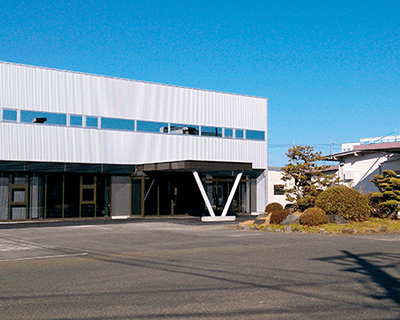 2014
Celebrated 100th anniversary.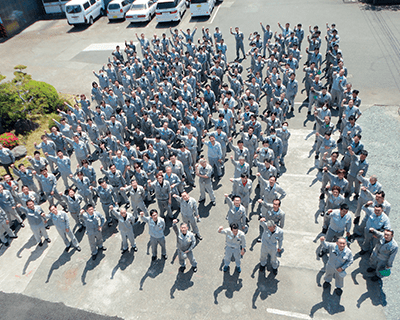 Change of our products and technologies
From hot forging to cold forging
New technologies to the factory
1970
Between 1965 and 1975, the main stream of forging technology was hot forging, but forgings for brush cutters and chainsaws were changing from hot forging to cold forging.
Because of this change, production efficiency was increased and succeeded in energy saving.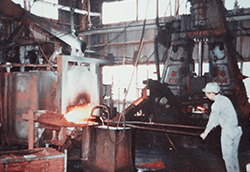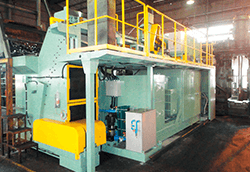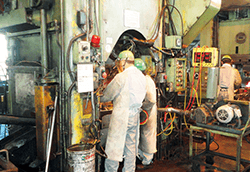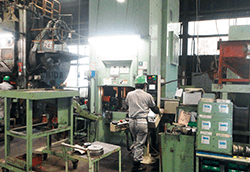 Automatization of crankshaft machining process achieved by many challenges, undefeated by failures.
1985
Not enough items, such as air-cylinder, hand and so on were sold in the market and there were troubles of defections. Therefore, we created our own production machines and automatization. There were much troubles but we fostered our challenging spirit.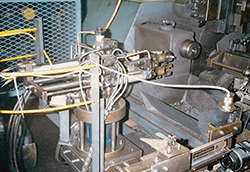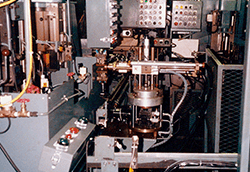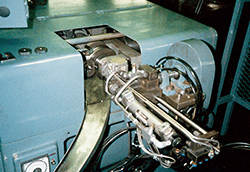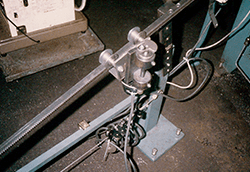 Development of parallel and contortion modification device
Bitter experience is just a step to the next goal
1986
Connecting rod is a connection shaft between a piston-shaft and crankshaft.
Heat treatment fortify the connecting rod but distorts it at the same time. Therefore, we need to take the distortion out at the end of process.
We took five months to develop an excellent modification device which calculate the level of distortion by FA computer and modified connecting rods automatically.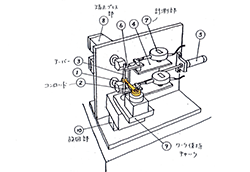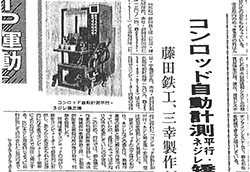 The mass production era
Small assembly crankshaft for chainsaws in foreign country
Automatization of crankshaft production line
1987
In 1987, a foreign chainsaw maker placed major orders with us, large quantities but limited number of models, which lead us to the mass production era.
In order to meet their large number of demand, we produced their parts all day and night long by two production lines created by our machinery department.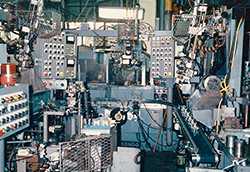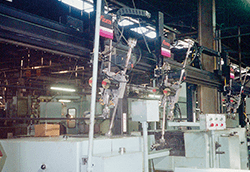 Development of the connecting rod transfer machine
We developed the machine by ourselves with a hint of toys of children.
1991
As there was no place for our machinery department, we created our transfer machine from the scratch.
The method for setting the works was established with a hint of toys of children. When a kid put a ball into the toy, the ball rolls and go down in a cylinder.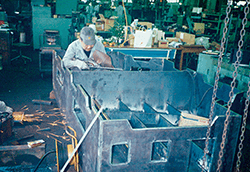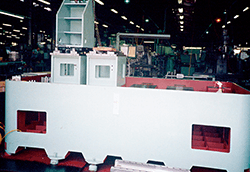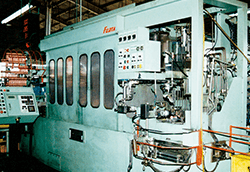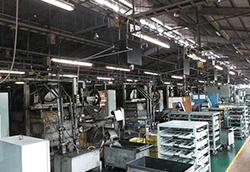 Triaxial horning machines for connecting rod production process are added.
Production efficiency is doubled
1991
In order to cut the manufacturing hours, our machinery department purchased 10 triaxial horning machines. Then, they developed tooling, automated transfer device and automatized measuring device by themselves and assembled those items into an original machine.
There were difficulties in making the pitch of work accurately, but our production speed was doubled.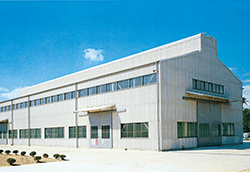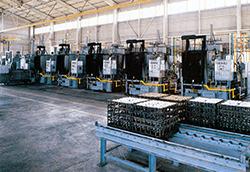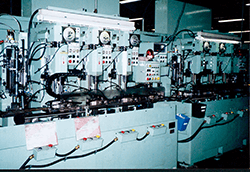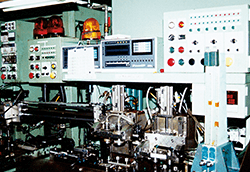 Grinding after assembly of small crankshafts
Productivity increased greatly by a reverse thinking
1993
we used to assembly a small crankshaft for brush cutters after grinding process. In order to increase the coaxial accuracy, we modified a left crankshaft and a right crankshaft by hand. However, we reversed the process and started from assembly to grinding by an automated line designed by our machinery department. Productivity was increased a lot by cutting a manual centering work.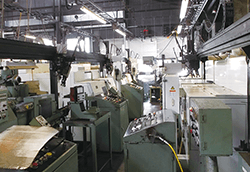 An automated assembly machine (Kumiko) was created by combining multi-joint robots.
1995
Crank sub-assembly machine No. 1, 2, 3 for small engines of chainsaws and brush cutters and No. 3 was created in-house.
After completion of those machines, our assembly speed got much faster. Since those machines are designed for assembling, we named them "Kumiko".
Technological support for an Indian parts manufacturer.
85 days by 5 Fujita staffs
1997
We sold connecting rod processing machines to an Indian parts manufacture that was our technical cooperation partner. 85 days from March to June in 1998, we dispatched 5 staffs to India to instruct them.
We gave them technical guidance and advice and supplied them cutting tools as well.
We learned from this experience which was very beneficial for our global strategy.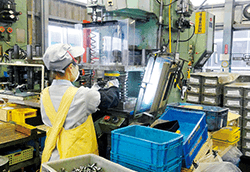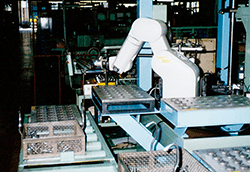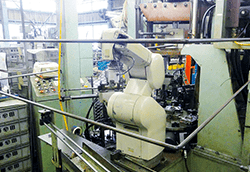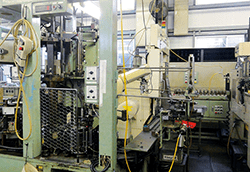 We challenged to make a connection rod for the pioneer of sports motorcycle "YZF-R1".
1998
A big motorcycle YAMAHA YZF-R1 (4XV), which was introduced in the motor-show in Milan, needed lightweight and highly durable connecting rods to meets its high-end engine.
We challenged to make a full carburized assembly connecting rod in collaboration with Yamaha Motors Co., Ltd.
Our production technology staffs finally made it after many trial-and-errors. It was a struggle to make it harder than the HRC60.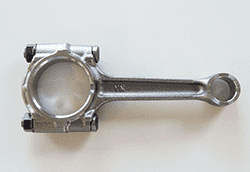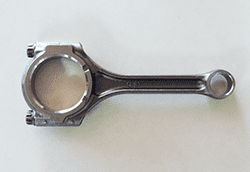 Operation of automated grinding machines in the middle factory.
Brand-new NC grinding machines are added to make small crankshafts in high precision processing.
2000
In stead of conventional hydraulic copying grinder, brand-new NC machines were added to make whetstones and grind works.
Onto this new grinding machines, our machinery department put automated loaders and measuring devices. We installed 5 lines of automated small crankshaft grinder in combination with NC lathes.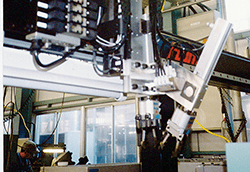 Our weight sorting machine with laser marking function can detect defective and unfinished products.
2001
Our first machine had a method to convey works laid on a work-stocker by a belt conveyer to an electric balance to check its weight. Then, the works were stamped by a turret which divide the works into eighths and the robot sorts them out.
However, sometime the mark gets unrecognizable. So we decided to use the laser marking method.
Then, we put CCD camera onto it to find assembly errors and unfinished products in order to improve our quality.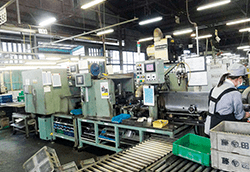 In search of the best productivity for assembly connecting rods
Completion of the automated assembly line with multiple-joint robots.
2006
Since there are lots of process to make assembly connecting rod, we made specialized processing machines in 2006,
In 2010, our main lines were replaced with automated processing lines with multiple-joint robots, in order to cut down the production costs and to increase the productivity.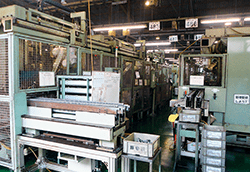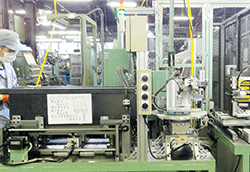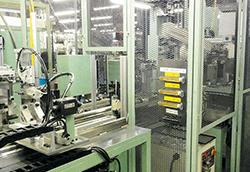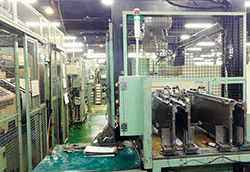 Heat treated works gets "split in two". Production of the NC controlled heat treatment test sample piece.
2008
In the past, cutting a test piece of an induction heart treatment micro-structure, we used a manual whetstone cutting machine in the marketplace which took us two or three hours to operate.
Our machinery department created a NC controlled cutting machine which requires no operator to cut a test piece. As it was well received, we made the 2nd machine for our Vietnam factory.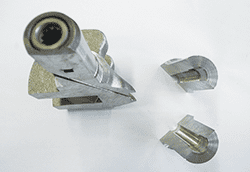 We made a torque test machine for crankshafts which can digitalize and analyze the torque characteristics into a graph.
2009
In the past, we used to measure torque of crankshafts (distortion durability) manually by a long pole and spring scale.
In this year, our machinery department made the torque test machine by ourselves. Torque data was digitalized. Relationship between dimensions and assembly conditions was analyzed by the machine.
It was an important function of crankshafts. Also, it enable us to meet the ISO9001 requirement.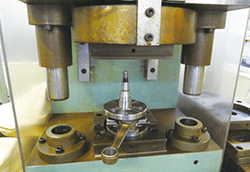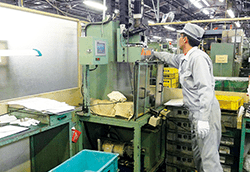 Visual inspection for forgings by a camera
We made a "flash eye" equipped with an image processing function, in order to make visual inspection automatically.
2010
In the past, visual inspection was conducted manually for forgings by human eyes. However, "Flash eye" can make a high speed image processing inspection. After that, the machine was evolved to set a certain number of works on a pallet automatically. From that time on, high technologies made it possible to make a completely new type of machines by ourselves.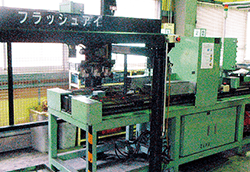 Transition of inspection machines
From analogue to digital
Evolution in terms of analysis precision in progress
With the digitalization, inspection machines can make the data process faster and the hardware became smaller.
Nowadays, some customers designate the measuring machine. Other than hardness and dimensional measurement requirements, some customer require contamination level. Quality requirements are getting tougher and tougher. in order to cope with the global competitions, we are ready to supply and assure 100% good products.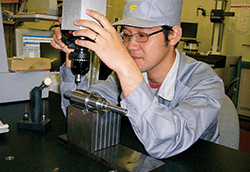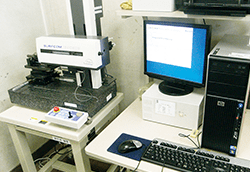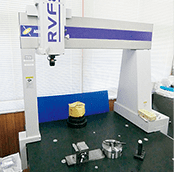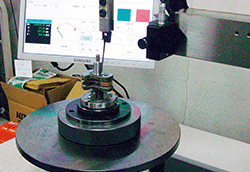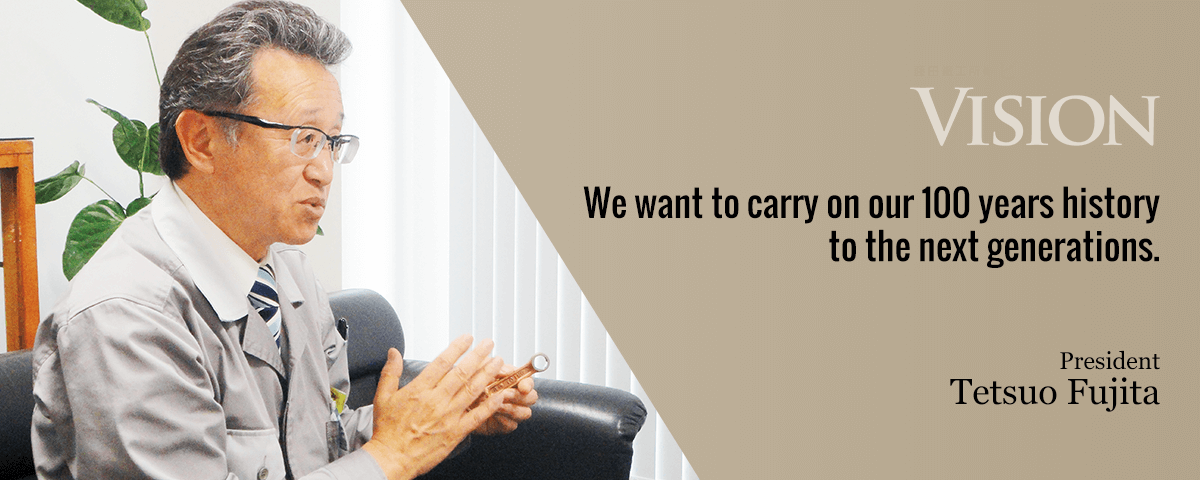 Increasingly harder economic environment
A century has passed since Fujita Iron Works Co., Ltd was born. Japan and the world have been changed substantially. If we did the same things as before, we must have been a totally different company by now. We have become the company today through changes and challenges we needed to take in response to the changing time and society.
Japan has been regarded with high esteem by the world as the country of advanced technology and has grown and developed in line with the reputation. However, business climate surrounding our manufacturing industry has been increasingly severe due to rising labor and energy cost as well as escalation raw material expenses. In addition, it is difficult to imagine any big expansion of the domestic demands in view of declining birth rate and growing proportion of elderly population.
In search of new markets and higher business efficiencies, we've been manufacturing products locally in Indonesia and Vietnam. As the global economy is progressing, more shifting of production overseas is inevitable. In the past, our competitors were only other Japanese companies, but today, we need to compete with companies all over the world.
Another factor we must consider in the global economy today is that, though we didn't pay much attention to it in the past, we are now subject of influence of international accidents and conflicts. If export of a certain product is stopped because of a trouble occurred in a distant world, our supply of parts used in the product would be stopped accordingly. The decrease of sales will have adverse effect on our livelihoods. Therefore, quick information gathering and countermeasures are getting more important each day.
For the sake of company growth and employees' securities of their life, I pray for peace in Japan and rest of the world more than anything else. Along with our overseas expansion, we need to improve our technology, quality, delivery and so forth, in order to overcome the global competitions.
We want to carry on our 100 years history to the next generations.
I believe that our mission is to carry on our 100 years history with accumulated know-how and technologies.
We have a long history of manufacturing forging. Notably we have a good deal of knowledge related to hummer forging.It is a labor-intensive field requiring expertise of workers, and such know-how is hard to put into a manual. Therefore, this is a niche to our advantage which prevent big companies, who are only interested in ready-to-work employees, to enter into. I would like to mention that this is our big advantage.
Other advantage of ours is the integrated manufacture from forging, machining, heat treatment, grinding to assembly in our factories. There are times we can't improve a certain process individually, but sometimes the desirable improvement can be achieved by changing a preceding process. Furthermore, in order to increase production efficiency and to improve quality, we've been making high-quality jigs and tools as well as production machines by ourselves. I believe this is also our advantage.
Our challenger's spirit was fostered with our integrated manufacture and the 100 years of history. This spirit must be carried on to the next generations without breaking down. By only doing so, we can find a way to solve a problem which no one solved before and we can develop a new field as a result.

Keep on challenging
We've been challenging many things and those challenges were not always successful. In fact there were many failures in the shadow of a success. None the less, what matters the most is that we need to learn from failures and use those experiences to make a next challenge successful. In other words, we owe those failures for our successful development of technologies today.
Whenever we receive an inquiry from a customer for a new product development, the customer is surely expecting our ability make it. That is an ideal opportunity for us to meet the challenge. We need to take the opportunity to live up to their expectations.
Business environment for the domestic manufacturing industry is getting more difficult these days. We can't get any opportunities if we are just waiting. I believe that a challenge leads us to a change. There must be plenty of challenges out there. New dreams and possibilities might be lying at our feet.
Flexibility to the change of the times
Whether you like it or not, in order to survive as a company, we need to expand our operations overseas. Consequently, we need to receive more and more trainees from foreign countries. When such time comes, what's very important for us is not only efficiency in cost and business operations, but also good communication. We can develop a feeling of mutual trust through the communication when we learn each other's culture and history.
We've been promoting internal personal interchanges. For example, through such interchange activities between sales staffs and technical staffs. As a result, they acquire ability to make a new proposal to our customers. New proposals leads to new products. We've been working on four "F-projects" which are company-wide improvement activities. As we marked 100 years anniversary, we've added "Flexibility" to the "F-projects". Flexible responses and ideas are becoming more important for the future.
In those 100 years, we've been coping with the changes of the times by changing ourselves. I don't think anyone could have visualized our company today in 100 years ago. In the same way, nobody can imagine the company we will be after 100 years later from now. We might be making products those are very different from what we are making today. We might be operation in a totally different business field in the future.
I don't wish our company from 100 years from now to be easily imaginable. Because if we keep changing ourselves in pace with the changes of the time, how we will be changing can't be foreseeable. The one thing I'm very certain of is that I'm always hooping Fujita Iron Works Co., Ltd to be a company which continues to assure every member of the company to live their life in peace with a sense of security.