Message from our president
MESSAGE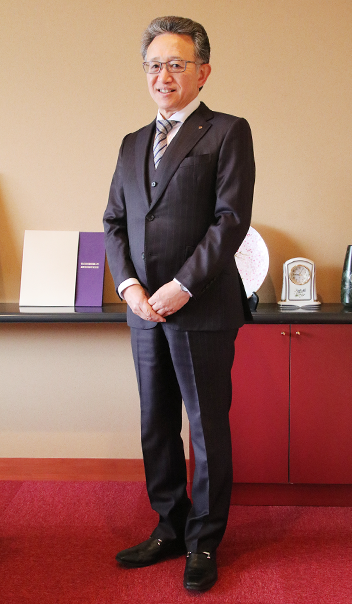 We have a long history of making things.
From establishment of our business in 1914, we started as a blacksmith. Today, we have expanded our business with the integrated manufacture from forging, heat treatment, grinding and assembling.
As a manufacturing company, we keep changing, challenging in speedy way to enhance our competitive edges. We try to have global and flexible thinking in order to cope with the change of our environment. Also, we try to be a socially responsible company through our valuable products.
President


Company overview
OUTLINE
Company name
Fujita Iron Works Co., Ltd.
Foundation
January 4, 1914
President
Tetsuo Fujita
The head office
1-1 Shiomachi, Kakegawa, Shizuoka 436-0076
TEL:

+81-537-22-9251

(Rep)
FAX:+81-537-22-9253


Access

Kakegawa station: 5 minutes on foot (1km)
Kakegawa IC: 5minutes by car (3km)

South Factory
2-1-1 Kubo, Kakegawa, Shizuoka 436-0027
TEL:

+81-537-22-5111

(Rep)
FAX:+81-537-24-5720


Access

Kakegawa station: 10 minutes on foot (1.5km)
Kakegawa IC: 5minutes by car (3km)

West Factory
280-1 Okatsu, Kakegawa, Shizuoka 436-0037
TEL:

+81-537-24-4191

(Rep)
FAX:+81-537-24-4192


Access

Kakegawa IC: 10minutes by car (5km)

Capital
46,400,000 Yen
Employees
300
Annual sales
3,800,000,000 Yen
Business activities
Transportation machinery and appliances manufacturing
Property area
40,200m²
Building area
16,500m²
Group company
・Daiwa Forging Co., Ltd. ・Fuji Metal Mold Co., Ltd. ・PT. FUJITA INDONESIA ・FUJITA VIETNAM CO.,LTD
For more information
Company Policy
POLICY
Company Creed
Harmony Responsibility Accomplishment
Corporate Philosophy
NEXT100
With our global perspective and flexible minds, We will make contribution to our society by making all the people involved happy through our products which meets demands of environmental changes.
Basic Policy
Continuous improvement on quality, cost, delivery and service.
Enhancement of the competitive edge.
From customers' satisfaction to our employees' satisfaction.
Growth together with local community.
Mid-term reform
Stabilization and enhancement of our domestic business. Full support for our overseas factories.
1.1. Cost reduction (Productivity improvement)
1.2. Work quality improvement (Safety, Quality, Efficiency)
1.3. Organizational activation (Education, Organizational reformation, various activities)
1.4. Customer satisfaction improvement (Solid mutual trust)
F Project
Thoroughgoing 5S and reliable quality
FIND

Find problems and solutions

FUNCTION

Function and system in place to prevent problems.

FORWARD

Go forward! Everyday activities for not going backward.

FUTURE

Into the bright future

FLEXIBLE

Be flexible!
C.C.C.30 Activities
CHANGE

Let's change ourselves! Let's change something!

CHALLENGE

Let's challenge!

SPEED

Let's do it fast!

30

We aim to improve everything by 30%